site.bta

Media Review: August 4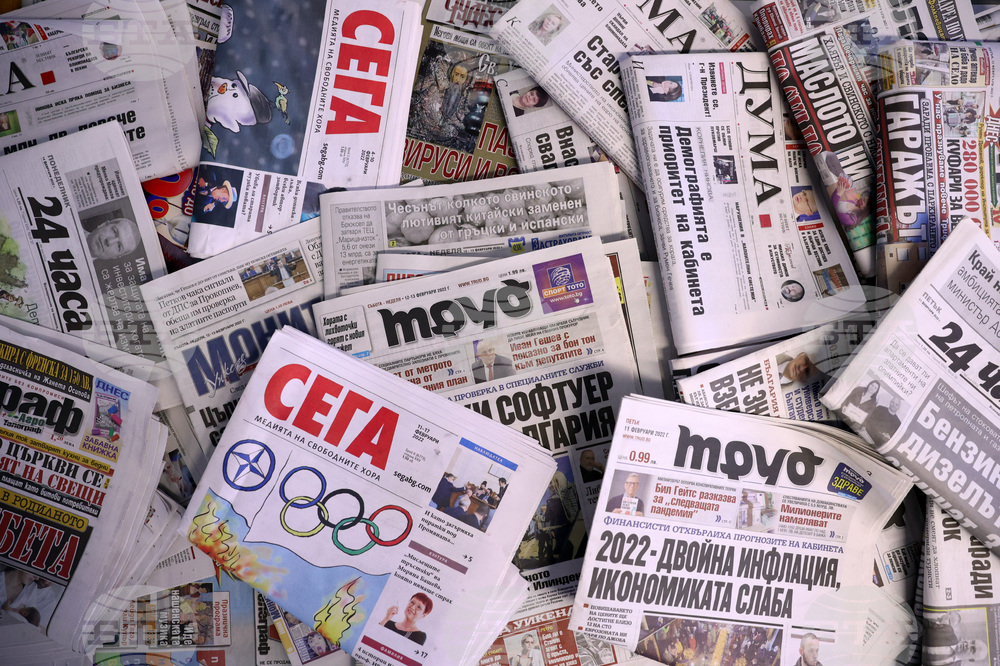 BTA Photo
GAS SUPPLIES
24chasa.bg quotes Continue the Change's reaction after the caretaker cabinet set up a gas crisis task force on its first day in office. Continue the Change, which led the government coalition until Tuesday, urged against instilling fear of gas shortages in the winter and reiterated that the Kiril Petkov cabinet last week negotiated more LNG at prices about USD 30 below Europe's. It did not sign a deal so as to allow the caretaker cabinet to accept or reject the offer by August 19 in case the required infrastructure is unavailable or a more reliable source and cheaper gas is found.
Interviewed on Nova TV, former energy minister Alexander Nikolov reacted to the criticisms of the caretaker government about the negotiations held by Kiril Petkov's cabinet. Nikolov said: "First, there is a verbatim record of the presentation of the offer at the Council of Ministers. Second, there is a framework agreement for seven shiploads with the Cheniere company. Third, the offer is binding." Talking about the Chiren storage facility, Nikolov said it was being filled at a faster pace than in the last couple of years. "It is not 80% full because this would have meant buying gas at EUR 250 MWh, which would be too expensive. Besides, Bulgaria is one 12 countries with which Gazprom Export stopped honouring its contract unilaterally."
Reacting to criticisms that Bulgaria is buying expensive gas through intermediaries, Bulgargaz Board of Directors Chairman Ivan Topchiysky told Bulgarian National Television (BNT) that the public supplier had been buying gas from traders at higher prices since Russia's Gazprom halted deliveries in late April. He stressed that the operative word was traders, not intermediaries. He added that Bulgargaz had to deal with an emergency and that its chief concern was to provide gas, price being an important but secondary consideration. Topchiysky said gas shortages would become worse in the winter and the next couple of years would require an adequate balanced management. Bulgaria is paying for part of the Azeri gas supplies at the agreed lower price and at close to the market price for the other part (which comes as an extra) because the interconnector with Greece has not been completed yet, said Topchiysky. The contractual price will apply to all Azeri supplies once the interconnector becomes operational in October. He said that although Bulgargaz has problems with collecting its claims, Sofia's heating utility being the largest debtor, and the gas company's liquidity is at risk, it has not lost BGN 500 million as alleged by the head of the energy regulator on Wednesday.
Dnevnik.bg quotes Topchiysky as saying on BNT that the most realistic scenario for Bulgaria is to rely on a long-term contract for LNG supplies. The prospects for the coming winter are LNG tankers and gas bought on the free market. He disagreed with the caretaker government and experts who claim that Bulgaria can resume Russian gas supplies under the contract which expires at the end of 2022. Bulgargaz is in correspondence with Gazprom Export but it has not committed to reliable supplies, Topchiysky said. He is optimistic that the Chiren gas storage facility could be nearly 80% full by the start of the heating season.
POLITICS
24chasa.bg says the parties have until August 30 to nominate their candidates for the October 2 parliamentary elections.
Simeon Djankov, finance minister of GERB's first government, says in 24 Chasa that Bulgaria needs a centre-right coalition. In his view, the latest centre-left coalition had no economic policy or good financial policy. As a result, Bulgaria's deficit, debt and inflation - all part of the Maastricht criteria - worsened while this coalition was in office. He says leaders Boyko Borissov of GERB, Kiril Petkov of Continue the Change and Hristo Ivanov of Democratic Bulgaria should name the next government's lineup because their parties have no differences on the important steps until the year's end: the launch of projects under the Recovery and Resilience Plan, a package of legislation needed for Bulgaria's entry in the Eurozone, anti-inflationary policies and support for the working poor, including those in the administration.
Commenting on Djankov's views, former agriculture deputy minister Ivan Hristanov (who tops the list of Continue the Change in Pleven for the October 2 elections), said on Bulgarian National Radio that suggestions for a centre-right coalition were intended to cast Continue the Change as the baddies. If they agree to form a coalition with GERB, they are doomed because "GERB is a toxic party - anyone who works with GERB dies". And if they refuse to coalesce with GERB, Continue the Change will appear as irresponsible and uncaring for Bulgaria's interests. As to Hristo Ivanov's proposal that Continue the Change and Democratic Bulgaria run together in the elections, Hristanov said they have more common ground than differences. Democratic Bulgaria are more right wing, while Continue the Change are more of a centrist party. He hopes that their supporters will recognize a formula of "1+1=3" as a good proposal.
ECONOMY
24 Chasa leads with a story headlined "Let's Be Greeks in August: Don't Pay without a Cash Receipt". The daily suggested, and the National Revenue Agency agreed, to launch a campaign against tax evasion modelled on Greece's Apodixi Please! (Receipt Please) campaign. Customers are encouraged to use bank cards for payments and to request a receipt from an electronic cash register. The Agency has started checking retail outlets and has sealed off 58 of them.
Trud.bg has an interview with former Kintex executive director Alexander Mihailov, who is going to inform the public on Thursday about Bulgaria's arms exports to Ukraine and Korneliya Ninova's role in them as economy minister of Kiril Petkov's government. Mihailov was fired twice by Ninova, who was adamant against direct arms exports to Ukraine. The ex-director of the state-owned military equipment supplier will cast light on the logistic channels for arms exports and their frequency, as well as on some of the traps set by Ninova for her successor. Mihailov claims that Ninova's revenge on him has so far cost taxpayers over BGN 70,000 in legal fees for two lawsuits.
Korneliya Ninova told bTV that a probe in February found "connections, breaches of the law and private interests siphoning off state-owned companies", which prompted her to dismiss Mihailov and VMZ-Sopot Board Director Nikola Stoyanov, who was appointed caretaker Economy and Industry Minister by the President on Tuesday. She went into details about her reasons for the dismissals, saying that then Kintex director Mihailov was also commercial director of a private company. Kintex was to represent VMZ in Egypt, but then both state-owned companies decided to authorize Bulgarian Industrial Engineering and Management (BIEM) to represent VMZ Sopot for five years on the Egyptian market. (BIEM is owned by Dimitar Manolev, father of Alexander Manolev, deputy economy minister of GERB's second government, who was sanctioned under Magnitsky for corruption in 2021.)
Ninova also told bTV that the President was restoring the governance model involving GERB and the Movement for Rights and Freedoms. The caretaker cabinet fired Socialist Party appointees on Day One, which the Socialist leader read as another sign of the President's attitude to her party. Ninova expects Stoyanov to dismiss the managements of the State Consolidation Company, VMZ and Kintex.
In Trud.bg, Assoc. Prof. Josif Avramov, a financial expert, stresses the need to reform the Bulgarian Development Bank (BDB), established in 1999. He argues that the bank has not done a good job of lending to small and medium-sized businesses and of co-financing major investment projects of Bulgarian companies which have borrowed from European banks. The money is there but the BDB management is not proactive. Over a year ago, the leadership of the Economy Ministry (headed by Kiril Petkov at the time) capped all BDB loans at BGN 5 million. Just recently, the bank's management set it at BGN 6 million. Avramov questions the decision to provide larger loans to troubled companies which have already borrowed from BDB, saying the explanation could be that there is a "crony's company" among them.
Telegraph.bg reports that distribution companies were defrauded of electricity worth about BGN 4 million in the first half of the year, which is equal to the consumption of a medium-sized regional capital. Household and business customers have used over 16,300 MWh without paying, just by abstracting electricity and tampering with electricity meters.
Based on its own journalistic investigation, Mediapool.bg says dredging to deepen Lake Varna, where the city's port is located, may have defrauded Bulgaria of hundreds of millions of leva. The Public Financial Inspection Agency has probed the project worth about BGN 400 million and drawn up two reports, which were not made available to Mediapool. The prosecution service has not informed the public about its own probe either. A probe ordered by the government led by Continue the Change delved deep into a scheme linked to Russia's Gidrostroy marine construction and dredging company, which was paid an unspecified part of the public money allocated for the project. A state-owned company awarded the contract without tendering to private consortium ES Build, which hired Russian dredging ships. The dredging contract for Lake Varna dovetailed with plans of Movement for Rights and Freedoms founder Ahmed Dogan to develop the wharf facilities of his own Varna TPP. In 2021, the then caretaker transport minister Hristo Aleksiev (who is now caretaker Deputy PM for Economic Policies and Minister of Transport and Communications) said dredging of the route to Varna TPP's wharf was the first to be completed.
COVID
Interviewed on Bulgarian National Radio, Prof. Todor Kantardjiev, health adviser to Sofia City Hall, said the current wave of infections is nearing its peak and new cases may start falling within two weeks. He commented that recovery from COVID a year ago or a vaccine administered over 10 months ago do not provide sufficient immunity.
Dancho Penchev, Director of Sofia's Regional Health Inspectorate, told BNT that the infectious disease clinics in the capital are filled almost to capacity with uncomplicated cases.
/DD/
news.modal.header
news.modal.text