site.bta

UPDATED

Kozloduy N-plant, Westinghouse Electric Sweden Sign Nuclear Fuel Supply Agreement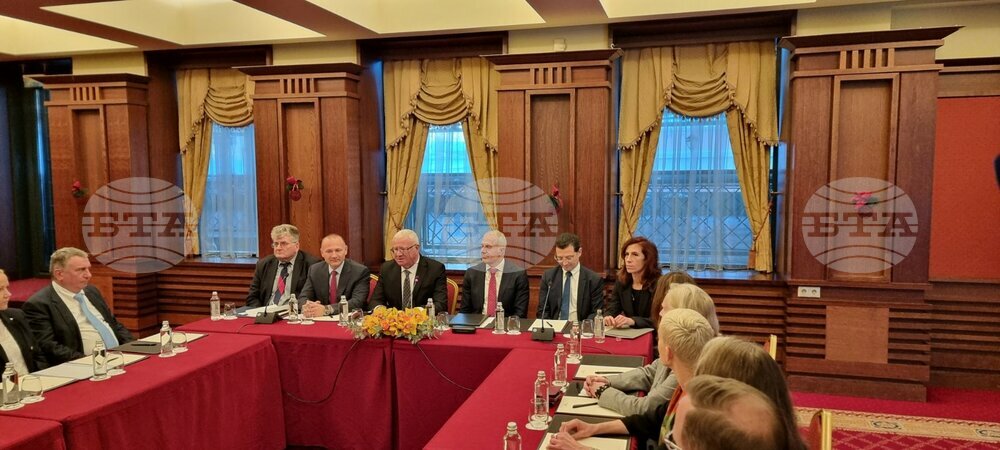 The signing ceremony (BTA Photo)
The Kozloduy N-plant and Westinghouse Electric Sweden on Thursday signed an agreement for the supply of fresh nuclear fuel for Unit 5 of the nuclear plant. The contract was signed in Sofia by Kozloduy N-plant Executive Director Georgi Kirkov and the Managing Director of Westinghouse Electric Sweden, Aziz Dag.
The agreement comes as part of the Kozloduy N-plant's programme for diversification of nuclear fuel supplies, which has been coordinated with the Euratom Supply Agency, and complies with a decision made by the Bulgarian Parliament on November 9, 2022 to accelerate the process of finding an alternative nuclear fuel source. A similar contract with France's Framatome company is also being drafted, which is supposed to ensure the supply of nuclear fuel for the Bulgarian N-plant's Unit 6. This will achieve complete diversification and security of the supplies, the Energy Ministry said.
Kozloduy N-plant Executive Director Kirkov said that thanks to the joint efforts, a real step towards diversification of fresh nuclear fuel supply has finally been taken.
Westinghouse Electric Sweden Managing Director Dag said the signing of the contract for the supply of fresh nuclear fuel to Kozloduy Unit 5 marks the beginning of a long-term partnership. According to him, the aim of this partnership is to ensure safe operation of N-plant, energy security for Bulgaria and safety.
Caretaker Energy Minister Rossen Hristov commented that a major step is being taken to ensure the security and diversification of supply of fresh nuclear fuel, in line with the strategy of the European Supply Agency (EURATOM), as well as the decision of the National Assembly of November 9 this year. In Hristov's words, the contract with Westinghouse is extremely good and beneficial for our country. There is an agreement with Westinghouse, by which the company commits to a complex delivery instead of just making fuel assemblies, Hristov specified.
With the contract Bulgaria has secured the uninterrupted operation of Unit 5 of the Kozloduy nuclear power plant. Soon a similar contract will be signed with Framatom for the supply of fresh nuclear fuel for Unit 6 at Kozloduy NPP, which will complete the procedure for diversification of fresh nuclear fuel supplies, because there is nuclear fuel from two independent non-Russian sources, Hristov added.
The term of the contract is 10 years, the caretaker energy minister said. In 2023, the nuclear fuel will be fully licenced and it is fully compatible with the technology at Kozloduy NPP.
Of the financial conditions, the Minister said that they had improved considerably during the negotiations compared with the offer received in July and now the price is equal to that of the Russian supplier TVEL.
/DD/
news.modal.header
news.modal.text