Der Standard
site.bta

Atanas Pekanov: An Economist in the Service of the Old Homeland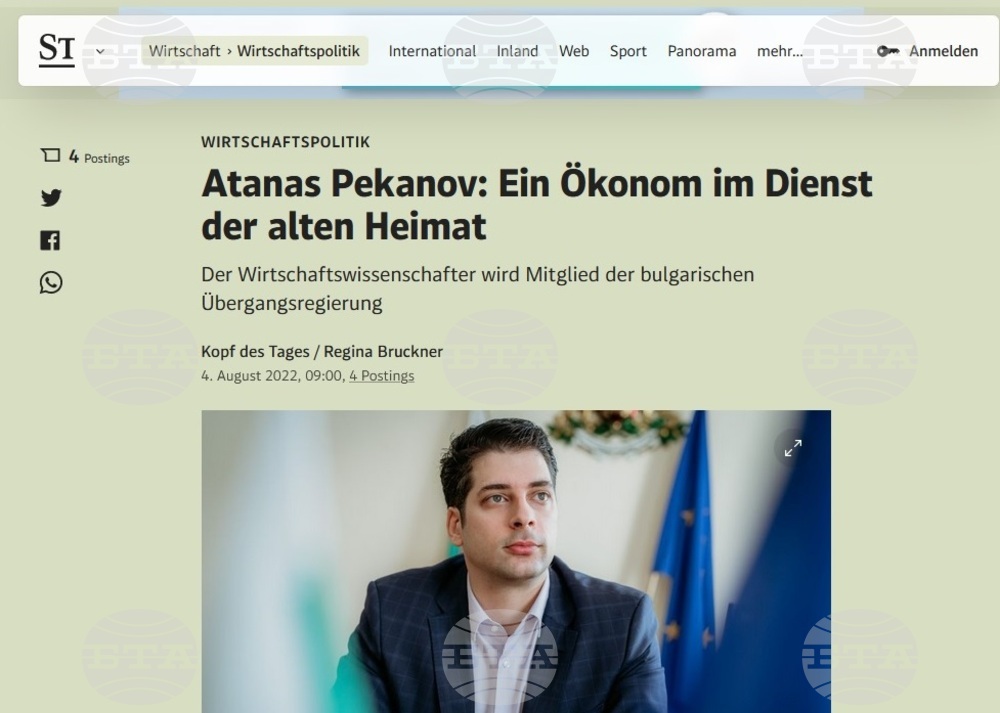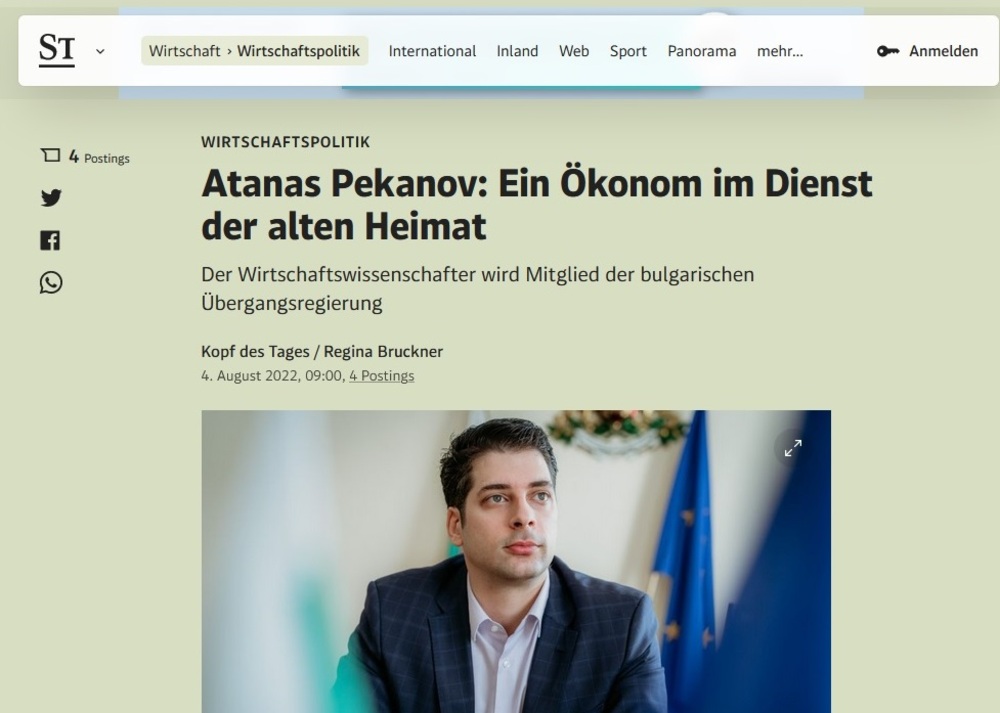 The Austrian daily Der Standard carries Thursday a profile of Atanas Pekanov, the Deputy Prime Minister in charge of EU funding in the caretaker government appointed a couple of days ago in Bulgaria by President Rumen Radev. He was also on Radev's previous caretaker government, in May-December 2021.
Born in Athens in 1991, Pekanov moved to Vienna to study. He holds a BA from the Vienna University of Economics and Business and an MA in Economic Policy from the University College London. He has worked as an economist in the Vienna-based Austrian Institute of Economic Research (Wifo), a lecturer at the Vienna University of Economics and Business (WU Wien), and also in the European Central Bank in Frankfurt.
Here is what Der Standard wrote:
Actually, Atanas Pekanov does not have much to gain in his old homeland Bulgaria. The 31-year-old economist knows a lot about monetary policy and is a sought-after explainer - even in Vienna, where he works at Wifo and teaches at the University of Economics. So, he could devote himself to his career abroad. Nevertheless, he did not say "No" when he got a call from President Rumen Radev, whom he has been advising for some time. Since August 2, he has been deputy prime minister in the transitional government of experts that will guide the country's fortunes until new elections are held.
What awaits him: political instability, poverty, corruption. The Balkan country has a long way to go to catch up with other EU countries. At the end of June, the liberal-socialist coalition was toppled by a vote of no confidence after just over half a year in office. The main disputes were over public finances and relations with North Macedonia. In addition, there was the gas crisis, tensions in the Balkans and inflation, which is a particularly heavy burden on the people in the poorest EU country. Permanent crisis. Not for the faint of heart. "A situation of insecurity," says the nonpartisan modestly.
Hard work
Now he is rolling up his sleeves - for the second time. You have to give something back to your homeland, says the graduate of a German-language high school in Sofia, who grew up in an academic household. He didn't think long about it. The single man, who likes to go running at Schönbrunn in quieter times in his second home Vienna, is responsible for managing EU funds. "We will work hard, with competence and care for the people, to ensure that Bulgaria will survive the next turbulence," he wrote on Facebook.
Those who know him say that is to be taken seriously. Pekanov, they say, is ambitious but also very socially minded. For someone who is part of the Bulgarian educated elite that left the country because of a lack of prospects for young people, that is remarkable.
He was drawn to Vienna to study. He pursued his career with determination, which led him to the European Central Bank in Frankfurt, and he gained expertise in economic policy at University College London. During the pandemic, a Fulbright scholarship brought him to Harvard. Now Pekanov wants to bring a bit of scientific methodology to Bulgarian politics - whether he wants to stay there if necessary, he doesn't know yet.
/NF/
news.modal.header
news.modal.text