site.bta

UPDATED

Southern Europe Broadens Energy Cooperation Based on Infrastructure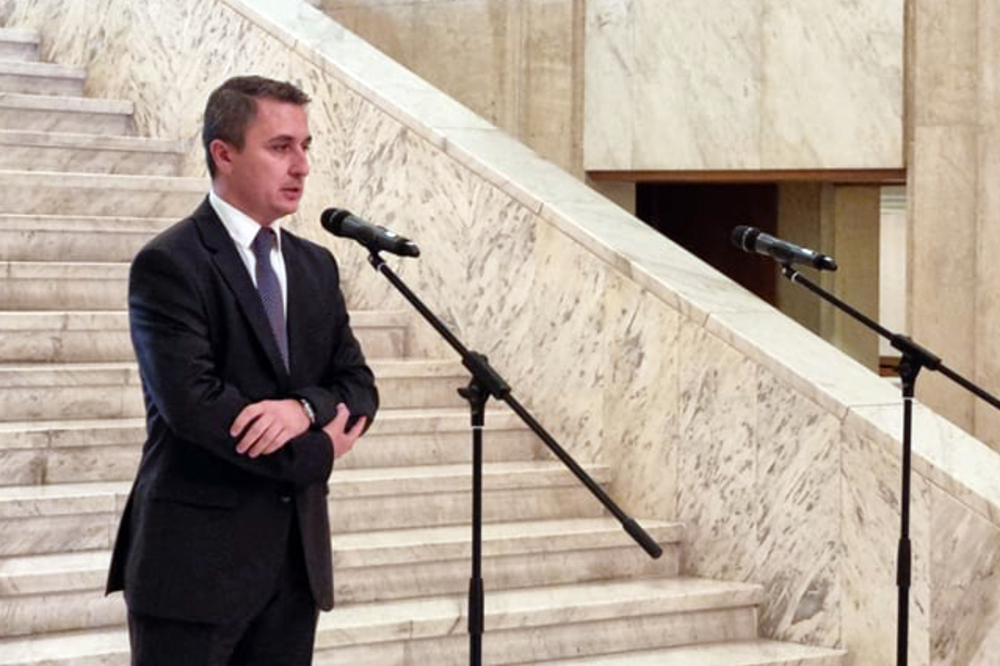 Energy Minister Alexander Nikolov speaks to the press after the Sofia regional ministerial on energy security (BTA Photo)
Southern Europe is broadening energy cooperation based on infrastructure. This transpired from a regional energy ministerial on energy security, diversification and green transition, as the results of the forum were presented to the press by Bulgarian Energy Minister Alexander Nikolov.
Participating in the meeting were Bulgarian Prime Minister Kiril Petkov, Finance Minister Assen Vassilev and Energy Minister Alexander Nikolov, as well as Greek Environment and Energy Minister Kostas Skrekas, Serbian Deputy Prime Minister and Mining and Energy Minister Zorana Mihajlovic, Macedonian Economy Minister Kreshnik Bekteshi, Azerbaijani Energy Minister Parviz Shahbazov, Ukrainian Energy Minister Herman Haluschenko, Turkish Energy and Natural Resources Minister Alparslan Bayraktar, and Romanian Energy Minister Virgil Daniel Popescu, as well as the head of the EC Directorate-General for Energy with the European Commission, Ditte Juul Jorgensen.
An agreement was signed by Bulgartransgaz on the construction of the Bulgarian-Serbian gas connection, Nikolov said. Regarding natural gas trade, Bulgargaz and the Greek company DEPA will work together to better develop existing capacities at the Revithoussa island terminal, as well as to seek joint supply opportunities throughout the region.
The operators of Bulgaria, Romania and Greece will sign documents that will increase the capacity to connect new green facilities. The new electricity capacity will provide opportunities to reduce dependence on natural gas in the region, as partial production, which is related to natural gas, can be replaced by alternative sources.
The Minister of Energy answered a journalist's question that in a very shortly solutions will be found to cover all possible risk scenarios, so that the electricity system and the energy balance, not only in Bulgaria but also in the region, remain stable regardless of the external factors' actions. Nikolov pointed out that Bulgaria will certainly ask for a postponement if Europe reaches a decision to suspend oil supplies from Russia.
Most of the decisions under discussion are medium-term and long-term, the Minister said. The short-term solutions are related to the spot market, he added. This is one of the reasons why there is an agreement between DEPA and Bulgargaz, as in this way the costs of both companies will be optimized and there will be an opportunity for continuity of supply. The working group, which also includes members of the European Commission, will discuss all possible scenarios in the long run.
Asked about gas prices in Bulgaria, the Minister said that due to the sharp change in the natural gas mix at the end of April, Bulgargaz needed more technological time before submitting the price application to the Energy and Water Regulatory Commission. He added that an appropriate balance is being sought so that there are no drastic price changes in the proposal for the approval of natural gas prices. "We hope that the request will be submitted within the next week," Nikolov added.
/NF/
news.modal.header
news.modal.text